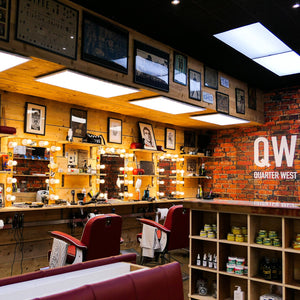 ---
Quarter West Barbers Belfast
Was established in April 2013 by Dan Wild and Andrew Mearns.
Committed to the constantly evolving craft of modern barbering, both started their journey in male grooming in the pursuit of high-quality haircuts and top level customer service.
They started in Carrickfergus and after a short period moved the business, along with their highly qualified staff, to Pottinger's Entry in the heart of Belfast City Centre. The pair have enjoyed great success, fast becoming the place to be for office workers and city staff.
Dan and Andrew have created a culture of feel-good vibes, quality cuts and a real sense of community within Quarter West. This is reflected in their happy customers and warm welcoming staff.
The guys are always available to help you select styling products for your hair and have a large range of products from our favourite brand, Bonafide Pomade.
Bona Fide
Quarter West teamed up with the legendary Bona Fide to bring you the best in gents styling products. We've tried everything under the sun - we even tried developing our own but we couldn't get close to what Luis and his team produced at Bona Fide. We stock the full range from the Matt Paste to the beautifully fragrant Endless Summer Pomade Limited Edition. Buy here or in-store today.
Shop Now
Quarter West Merchandise
Quarter West merchandise is well sought after. Our legendary caps and beanies are hard to find. Grab one here or in-store today.
Shop Now
---
Follow Us on Instagram
@quarterwestco